When you study at the College of Engineering and Computing, your classes, labs, and workshops provide the training and experience that will make you competitive when you graduate. Many of our degree programs have been designed with input from major technology companies, which gives you an edge when you're looking for that first job. Ninety percent of college undergrads find careers in their chosen fields, and 10 percent go to graduate school. Among graduate students, 93 percent find positions in their areas of study.
The World is Your Classroom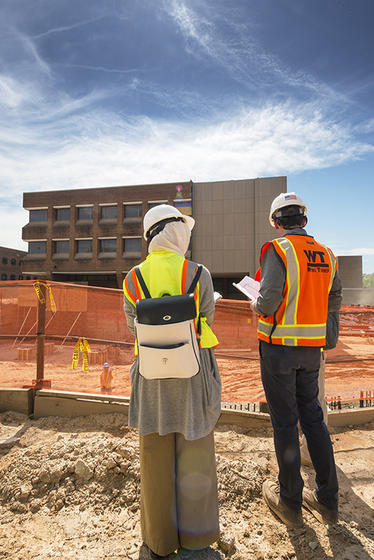 ​
Earning a degree at Mason will enable you to combine science, theory, and application to create projects and solve problems while developing the soft skills needed for leadership and collaboration. 
The College of Engineering and Computing houses the first-ever School of Computing in the Virginia Commonwealth, and we are the first engineering and computing college in the United States to focus its scholarship primarily on information technology-based engineering, is also the first university to offer a doctoral degree in information technology. We're also Virginia's only school of engineering and computing with the main campus in the D.C. area.
Our strong relationships with government and industry at the local, national, and international levels enable us to stay at the forefront of the field and deliver engineering courses that have employers contacting our students before they graduate.
Both graduate and undergraduate students participate in research projects — often in collaboration with faculty and industry — and contribute to design teams working in labs, gaining experience that enhances their value in the workforce or in graduate school.
In the next decade, we expect to continue our transformation into one of the country's largest, most comprehensive colleges of engineering and computing by expanding programs, growing enrollment, and increasing research. Join us.
Many of our undergraduate programs are accredited by such organizations as the Accreditation Board for Engineering and Technology-Engineering Accreditation Commission for the engineering programs and the ABET-Computing Accreditation Commission for the computer science program.