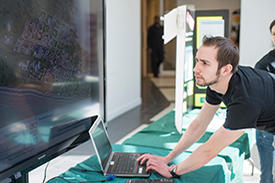 When you choose the College of Engineering and Computing, you'll gain more than a degree – employers will pursue you as a valued asset.
The Many Benefits of Mason
We're near some of the most advanced scientific and engineering research in the nation, which means you'll have amazing opportunities to gain hands-on experience through study abroad, internships, and research projects. As Virginia's largest public research university, Mason will give you the resources and support you need to propel you into a rewarding career. It'll also be a fun four years.
You will:
Be where the action is: Our campuses in Fairfax, Arlington, and Manassas provide Engineering and Computing students with connections to the federal government and companies in the Dulles Technology Corridor and Loudoun County's data centers. That proximity works both ways. Students get enhanced access to internships and positions, while area engineering, information security and tech companies come to us for the skilled labor force they need. And with federal agencies and organizations in Washington, D.C., supporting government technology and security infrastructure, federal contractors look to Mason first. Not many universities get calls from the CIA requesting that a specific degree track is offered; we do.

Live among your fellow STEM students: Incoming First Year Engineering and Computing students can join the Engineering & Computing First Year Learning Community.  Incoming Transfer Engineering and Computing students can join the Engineering & Computing Upper Level Learning Community. Students in this Learning Community will explore technology and engineering through enhanced experiences while networking with faculty and staff. The College of Engineering and Computing also has 25 student organizations, and Mason has many more. Get involved, find friends and form a campus family.

Be a part of a global community: Mason is one of the nation's most diverse universities. Getting to know different kinds of people can help you see the world in a different way. That new perspective can boost your creativity and improve your critical-thinking skills, qualities that are highly valued in the working world. Plus, you'll have a really cool group of friends.

Take the first steps into your career: Our alumni have careers at such places as Apple, NASA, Google, Northrop Grumman, and the Department of Homeland Security. Our faculty work with government, technology and engineering companies, and attend international conferences in D.C. These connections mean you won't have to look hard for internship and networking opportunities.

Get the most bang for your buck: More than 80 percent of Mason graduates have jobs within six months of graduation, and Kiplinger's Personal Finance magazine ranked Mason as one of the Top 100 Best Values in Public College in the nation. Virginia's State Council of Higher Education placed Mason at the top of the list of Virginia schools for highest average starting salary of recent graduates.

Get the financial aid you need: College of Engineering and Computing awards scholarships through such organizations as the Armed Forces Communications and Electronics Association, and the Northern Virginia Technology Council Foundation. We also offer guidelines on how to apply for awards from such groups and organizations as the Society of Women Engineers, the Virginia Department of Transportation, and the National Society of Black Engineers.
Whether you want to cheer the Patriots to victory or take part in the next Robotics World Cup, you can take pride in being part of the Mason Nation.
Getting In
Majors in the College of Engineering and Computing have selective admissions.
Freshmen students who apply "Score Optional" to Computer Science and Engineering majors will be considered if they have:
completed four years of high school mathematics courses, with one course designated as a higher level than Algebra II completed by the senior year
completed all math courses with grades of B or better
Freshmen students who do not apply score optional using SAT or ACT scores must have completed four years of high school mathematics courses, with one course designated as a higher level than Algebra II completed by the senior year with C grade or better and a SAT or ACT score as listed below:
at least a 550 on the Math SAT
at least 26 on the Math ACT test
Transfer students applying to a Computer Science, Information Technology or Engineering major should review the selective admission requirements on the Transfer Admissions website.
Students that do not meet the aforementioned requirements, but admissible to Mason, will be admitted to Undeclared within the College of Engineering and Computing, and work closely with Academic Advisors to become eligible to declare a Engineering or Computing major within five semesters.
Apply through Mason's online application process.