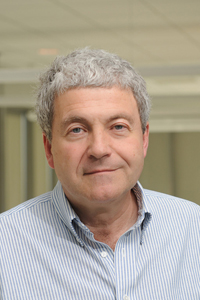 Titles and Organizations
Professor, Computer Science, Volgenau
Contact Information
Phone: 703-993-1533
Campus: Fairfax
Building: Nguyen Engineering Building
Room 4448
Mail Stop: 4A5
Personal Websites
Biography
Harry Wechsler was the Director of the Distributed and Intelligent Computation Center at Mason from 1995-2010. His academic career includes visiting professorships at Institut National de Recherche en Informatique et en Automatique (INRIA) in France, Kyoto University in Japan, Technion in Israel, the Center for Automation Research at the University of Maryland, Centre National de Recherche Scientifique (CNRS) in France, Romanian Academy of Sciences, Commonwealth of Science and Industry Research Organization (CSIRO) (Australia), University of Genève in Switzerland, the Russian Academy of Science in Moscow, and the Chinese Academy of Sciences in Beijing.
Wechsler's research, in the field of intelligent systems, covers biometrics: face recognition, denial and deception, performance evaluation; cyber security: adversarial learning; spam, fraud, and phishing detection; active authentication; image analysis and understanding: computer vision, contents based information retrieval, video processing, automatic target recognition; machine learning: data mining, pattern recognition, statistical learning, neural networks, novelty detection, bioinformatics.
Research
2007 - 2010 : Developing Tools of Automatic Coronal Mass Ejection Detection and Characterization. Funded by National Aeronautics and Space Administration.
2004 - 2008 : NSFMRI: Aquis Testbed. Funded by National Science Foundation.
2006 - 2006 : Spatiotemporal Analysis Using Independent Component Analysis (ICA). Funded by Naval Research Laboratory.
Research Interests
Machine Learning, Artificial Intelligence, Bioinformatics, Computer Vision, Data Mining, Computer and Network Security, Biometrics, Contents-Based Image Retrieval
Degrees
PhD, Computer Science, University of California, Irvine