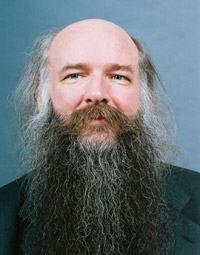 Titles and Organizations
Associate Professor
Statistics
College of Engineering and Computing
Contact Information
Phone: 703-993-1684
Campus: Fairfax
Building: Nguyen Engineering Building
Room 1706
Mail Stop: 4A7
Personal Websites
Biography
Clifton Sutton is a native Virginian and attended the University of Virginia before earning his master's and PhD  in Statistics from Stanford University. He has been a member of the instructional faculty in the Statistics department since 1987.
As Director of the Statistical Consulting Center, Sutton has had the opportunity to work with researchers from many programs on campus, by advising them on experimental design and helping them do their data analysis.  Among his more interesting Mason clients was former head men's basketball coach, Jim Larranaga, who wanted to gain some insight into the effectiveness of various offensive and defensive strategies.  Sutton also works with consulting clients from outside of Mason and has served as an expert witness in several legal proceedings, including once testifying in a murder trial.
While at Mason, Sutton has taught a wide variety of graduate-level courses and has been a winner of the Volgenau School's Outstanding Teaching Award. He has done research in a number of different areas, among them geometric probability and robust statistics; and he has also been active in university service, serving for many years in leadership positions on both the Faculty Senate and the General Education Committee. Sutton is particularly proud of his efforts to get the engineering school programs more involved in the university's general education program, which led to a tremendous increase in enrollment, and subsequently, the growth of two departments within the Volgenau School.
Research
2007 - 2009 : Howrey Statistics Cost Center Fees. Funded by Howrey LLP.
2007 - 2009 : Howrey SCC Fees. Funded by Acushnet, Inc.
2006 - 2008 : Gannon Intellegence Community Occo. Funded by Gannon Technologies Group, LLC.
Research Interests
Classification and regression
Robust statistical inference
Biometric identification
Degrees
PhD, Statistics, Stanford University
MS, Statistics, Stanford University