Body
As a child growing up in Mumbai, Vinee Moradiya loved to cook. But when her uncle inspired her to pursue an education in computer science, she was eager to follow suit. For now, she placed her cooking interests on the back burner but Moradiya says her degree and an interest in robotics could still be useful if she ever plans to open a restaurant someday.
"I could create a place where robots come to serve you and develop a software that stores recipes and trains chefs how to make them. Anything is possible," she says.
Break Through Tech's Mason Guild program held July 26 to July 30 brought students together from various backgrounds to collaborate, brainstorm, and explore the world of possibilities available to them. When Moradiya received notification of the program, she didn't hesitate to join, seeing it as the perfect opportunity to connect with others in her field.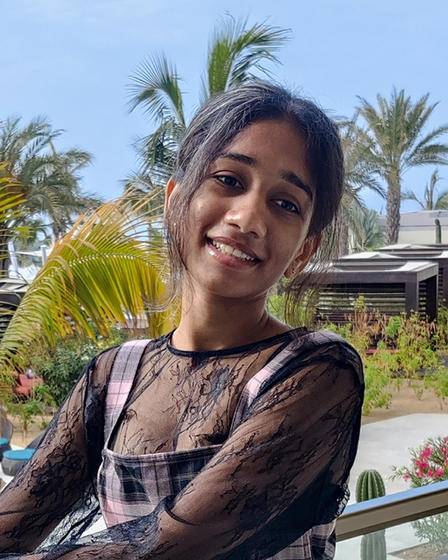 "I wanted to meet other women in STEM who share my perspectives. That's why I joined Guild," says Moradiya.
A full-time international student at Mason, Moradiya's journey from India to her eventual participation in the Guild was an adventure. During the height of the COVID-19 pandemic, she braved travel to Delhi and Chennai as she navigated through the U.S embassies in India, battling red tape to secure her student visa. She made it to Northern Virginia just in time, with only ten days left before her program started.
"My uncle and aunt are engineers, and I grew up hearing about everything they've been doing in their work," says Moradiya, a Department of Computer Science undergraduate student at Mason. "Using technology to help others, make other's lives easier, discovering new things-- this is what pointed me towards computers."
Advantages of Guild included speaking with a variety of mentors as well as learning different perspectives and engaging in team collaboration.
"I was able to speak with mentors from places like Verizon and Amazon, as well as those pursuing a doctorate," she says. "They shared [stories] about their life and career experiences and were able to provide what they've learned along the way."
 "The computer science program at Mason is great, it's a diverse campus, and the weather (in Northern Virginia) is nice," she says. "It was all worth it!"
Break Through Tech's Guild program is open to all students with a focus on women (cis and trans) and nonbinary individuals who are first- and second-year students at Mason. For more information, visit Mason Guild's page.