Finding a great group of people with different goals, aspirations, and ways of thinking is one of the keys to a rich and rewarding college experience.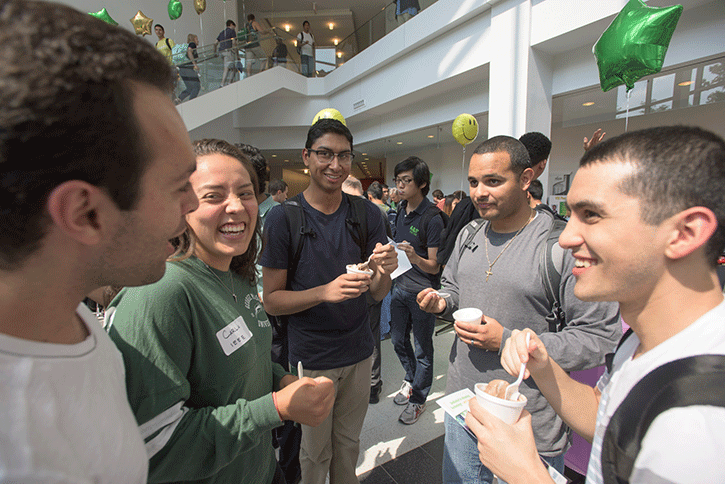 Meet Our Team
Christopher Carr, EdD, Associate Dean for Diversity, Outreach, and Inclusive Learning
Christopher Carr is a leadership and policy wonk in the areas of diversity, higher education, and STEM (science, technology, engineering, and mathematics). His unwavering support in the work of intersectional justice has allowed him to trek a path in the difficult areas of retention in institutions of higher learning, teamwork and organizational development in the collegiate and professional sphere, and diverse representation in STEM fields. With a background in public policy, he takes his ethical stances into conversations around tough issues to make sure all voices are included.
In his professional life, Carr has convened numerous diversity leadership forums in STEM education – bringing together over 100 deans and diversity administrators to talk about underrepresented students' persistence, diverse faculty recruitment, and creating inclusive campus climates. Carr has also been a champion for access to opportunities for those from historically oppressed groups. He worked to see outreach efforts exponentially expand to Historically Black Colleges and Universities, Hispanic Serving Institutions, and Tribal Colleges and Universities. His efforts transformed the way the National Science Foundation both solicited the premier Graduate Research Fellowship Program, which led to comprehensive changes in other federal STEM fellowships.
In his role here at Mason, Carr supports the faculty with search committee parameters to help ensure that the George Mason faculty better represents the diverse Mason student body, he supports the Office of the Dean and the associate deans in their efforts to develop and enhance an equitable and just campus climate within the Volgenau School of Engineering, and he supports the larger campus community goals by helping to challenge the status quo and assist in the university in its strategic goals.
Mercadi Crawford, Diversity Associate
Mercadi Crawford joined the College of Engineering and Computing (CEC), at George Mason University as a Diversity Associate in summer of 2021. Prior to coming to Mason George Mason, Crawford managed STEM education programs for the American Society of Engineering Education and the National Society Black Engineers. She also has previous work experience in community recruitment and outreach, program coordination, communications, and public relations.
Crawford received an MPA from Texas Southern University in 2013 and BA in public relations from Sam Houston State University in 2010. Born and raised in Houston, Texas, she knew from an early age that persistence created opportunity, and with opportunity came knowledge, and knowledge could build the bridge needed to become a role model for her younger siblings. She is excited that she can now extend that bridge to students interested in engineering and computing.Justice, equity, diversity, and/ or inclusion in engineering and computing means that every kid not only knows that a career in engineering and computing is an option but also has the tools needed to make it happen by being exposed to an effective educational pipeline.
Christi Wilcox, Diversity Associate
Christi Wilcox was born and raised in Nassau, Bahamas and received a B.A. in International Politics from The University of Sussex in Brighton, UK, an M.B.A. in International Business from The University of the West Indies, in Kingston, Jamaica, and an M.F.A. in English Literature and Creative Writing from Syracuse University in Syracuse, New York. Her work in higher education has included lecturing, grant writing, project management, and academic advising. Her current focus is on advising and crafting programming for individuals who are the first in their families to go to college, low-income students, and students of color, particularly in STEM. She is passionate about facilitating successful students' transitions through their college and careers. She is particularly interested in combining practices of inclusive excellence, social justice, visioning, goal setting, and deep interpersonal communication within the spaces she engages in at educational institutions, engineering communities, and beyond.
Student Groups
Become involved in a student organization focused on diversity. Here are just a few of them. At Mason Engineering, students with their own individual identities—nationality, ethnicity, gender, faith, traditions, and abilities—come together to share ideas and experiences, and to learn from each other as well as the faculty.
Several organizations at the school support our diverse student population.
Computing and Engineering Diversity Resource Information Center (CEDRIC)
CEDRIC will serve as a resource for students, faculty, and staff, providing a central repository of scholarship, research opportunities, peer mentorship programs, student organizations, and more.
Louis Stokes Alliance for Minority Participation
Who Should Join
Minority students interested in an undergraduate degree in science, technology, engineering, or mathematics (STEM).
Benefits to Getting Involved
Gain access to stipends in fall and spring semesters as well as summer courses.
Take advantage of mentoring and tutoring resources, internships, summer research experiences, and a summer bridge program for members of the incoming freshman class.
­­­­Participate in an annual symposium to present research and projects. 
About LSAMP 
The alliance, which is funded through fall 2022 by the National Science Foundation, is named after Louis Stokes, who was the first African American congressman from Ohio and co-founder of the Congre­­­ssional Black Caucus.
Contact: Alok Berry, Electrical and Computer Engineering Department
National Society of Black Engineers (NSBE)
Who Should Join
Science, technology, engineering, or mathematics majors of all backgrounds, but the group is not limited to STEM majors.
Anyone who would like to grow professionally.
Benefits to Getting Involved
Attend informational events sponsored by well-known companies.
Benefit from multiple networking and career-development opportunities.
Participate in social activities such as movie nights, ice-skating, and laser tag trips.
About NSBE  
NSBE's goal is to increase the number of culturally responsible black engineers who excel academically, succeed professionally, and have a positive impact on the community. 
Contact: gmu.nsbe1@gmail.com
Society of Hispanic Professional Engineers (SHPE)
Who Should Join
Although the organization name includes the words Hispanic and engineers, the group welcomes all ethnic backgrounds and majors.
Benefits to Getting Involved
Attend professional development events such as résumé workshops and job-information sessions.
Participate in barbecues, study sessions, and other activities that include free games and catered food.
About SHPE
SHPE's mission is to change lives by empowering members of the Hispanic community to realize their full potential and to have an impact on the world through STEM awareness, access, support, and development. The group's vision is a world in which Hispanic people are highly valued and influential as leading innovators, scientists, mathematicians, and engineers.
Contact: shpe.gmu@gmail.com
Society of Women Engineers (SWE)
Who Should Join
Open to all students, especially those with a major in a Science, Technology, Engineering, or Math field.
Benefits to Getting Involved
Receive encouragement to establish a successful career in engineering.
Gain access to research and internship opportunities, as well as networking with professionals in the industry. 
Connect with other women who are interested in STEM through leadership activities and mentor programs.
About SWE
The Mason Engineering SWE chapter encourages women to achieve their full potential in careers as engineers and leaders, expand the image of the engineering profession as a positive force in improving the quality of life, and demonstrate the value of diversity. 
Contact: gmuswe.president@gmail.com