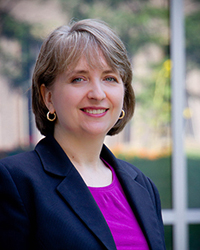 Titles and Organizations
Associate Dean, Undergraduate Programs, Volgenau
Contact Information
Phone: 703-993-1511
Campus: Fairfax
Building: Nguyen Engineering Building
Room 2500
Mail Stop: 5C8
Biography
Bringing the best talent, building the best programs.
The Volgenau School's approximately 5,500 undergraduate students have a choice of 11 majors in the areas of engineering, computer science, information technology, and statistics. Sharon Caraballo's leadership in the development of the school's undergraduate programs draws from her extensive study and experience in forward-thinking higher education programs. She served as Clare Boothe Luce Professor of Computer Science at Georgetown University before joining the faculty of George Mason University in 2004 as Associate Director of IT Undergraduate Programs. Caraballo was appointed Associate Chair of the Department of Applied Information Technology when the department was established in 2005. In 2007, she became Assistant Dean for Academic Affairs of the Volgenau School, with responsibility for marketing and recruitment for undergraduate programs, distance learning, enrollment analysis, and K-12 outreach. In this role, she also served as a Director of the Commonwealth Graduate Engineering Program (CGEP), a distance learning consortium among Virginia's public universities with engineering schools, and was State Chair of CGEP from 2008 to 2011.
Caraballo currently holds the rank of Professor in the Department of Information Sciences and Technology. She is a member of the American Conference of Academic Deans, American Society for Engineering Education, and the Association for Computing Machinery, including its special interest groups on information technology education and computer science education. She also fosters the success of future applicants to the Volgenau School by serving on the Fairfax County Public Schools Career and Technical Education Advisory Committee.
Research
Research Interests
Machine Learning
Degrees
PhD, Computer Science, Brown University
ScM, Computer Science, Brown University
MS, Higher Education, Drexel
BA, Computer Science, Rutgers University