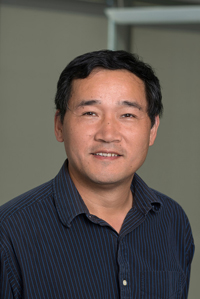 Titles and Organizations
Professor
Department of Computer Science, College of Engineering and Computing
Contact Information
Phone: 703-993-1720
Campus: Fairfax
Building: Nguyen Engineering Building
Room 4446
Mail Stop: 4A5
Personal Websites
Biography
Jim Chen has taught at George Mason University since 1995. He is the editor-in-chief of Computing in Science & Engineering, a senior member of the Institute of Electrical and Electronics Engineers, and an associate member of the Association for Computing Machinery. He has authored four books, edited two conference proceedings, published over 100 research papers, and acquired three patents. His research interests include computer graphics, virtual reality, visualization, networking, and simulation.
Research
2012 - 2015 : II-New: Acquisition of a Light Detection and Ranging (LiDAR) Scanner System. Funded by National Science Foundation.
2009 - 2010 : Mason-Inova Fund: The Development of VKASS: A Virtual knee Anatomy and Surgery System. Funded by INOVA.
2006 - 2008 : NSF MRI: Acquisition of a Virtual reality testbred for Research. Funded by National Science Foundation.
Research Interests
Computer Games Technology
Degrees
PhD, Computer Science, University of Central Florida
MS, Computer Science, Southwest Jiaotong University
BS, Computer Science, Southwest Jiaotong University