Since before the Romans built the first bridges in Europe, humans have needed to cross streams and rivers. Throughout history bridges have evolved from a simple log across a shallow stream to elaborate steel and concrete structures spanning increasingly larger and deeper bodies of water.
"There's something special about a bridge," said Patrick Varner, a senior civil engineering major concentrating on structures.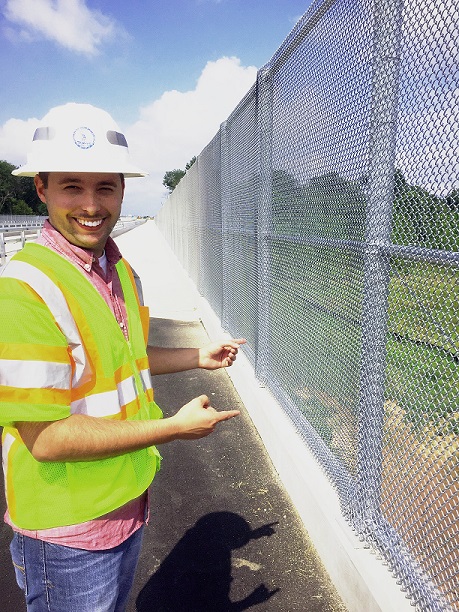 The evolution of bridges has created ever more complex structural challenges and that is why Varner said he has always wanted to learn about them. He got his opportunity to work on bridge design when he became a Virginia Department of Transportation (VDOT) intern the summer before his junior year at Mason.
"When I started at VDOT, I hadn't even taken my first structures course or used Math CAD," said Varner.
"My supervisor was great, he challenged me and encouraged me to work through the problems and find solutions on my own."
 "I worked with Patrick evaluating overpass bridges on I-66 inside the beltway to identify options for widening I-66 and needed modifications to the overpass bridges," said Gary Runco, VDOT, District Structure and Bridge Engineer.  "He collected data from several sources and compiled sufficient information for us to begin our assessment.  I also worked with Patrick on an 'out-of-the-box' solution for a temporary bridge adjacent to the Arlington Memorial Bridge.
"We challenged Patrick with various concepts and he was able to keep pace with some abstract concepts as possible solutions," Runco continued. "He was willing to learn new material and driven to get correct and accurate answers."
"VDOT gives you a taste of everything and there are opportunities for all different kinds of work, tours and hands on experiences," said Varner.
Varner had many different experiences, however, his pride and joy is a fence that he designed for a pedestrian bridge on Gloucester Parkway. The fence, which is connected to the 1,300 bridge, may soon become a VDOT design standard.
The fence has to support a screen to block the Redskins training field from pedestrian view. The specific challenge is designing the fence to withstand the additional wind pressure created by the screen.
Varner's supervisor worked with him on the calculations through during the summer of 2015. In fall of 2015 Varner interned for 4 hours a week and submitted his calculations to VDOT in winter of 2016. After he took his first structures class, he made revisions and completed them in March. The bridge itself was finished in August2016.
"If VDOT decides to use my design as a standard, my calculations will be used throughout Virginia," said Varner.
Runco says the best thing about working with interns like Varner is that, "They are like sponges.  They absorb all the knowledge that you can share with them."
Varner jokes that he now has the perfect senior design idea, "I'm thinking that if VDOT has approved it for state-wide use, it has to be a winner."