About the Program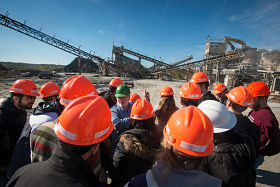 The BS in Civil, Environmental, and Infrastructure Engineering combines challenging coursework in physics and mathematics with hands-on practical work in construction, building, and project management. Our degree program provides the skills needed to identify solutions that address the most pressing civil infrastructure needs of our built environment.
Program Opportunities
A Civil, Environmental, and Infrastructure Engineering graduate is expected to be competent in applying both the art and science of engineering, adept at understanding and using the tools available, and capable of examining problems from a variety of perspectives. Graduates work for organizations including construction and design-build firms, Departments of Transportation, consulting engineers, water, waste-water, and power utilities, local and federal government, land development firms, and information technology firms.