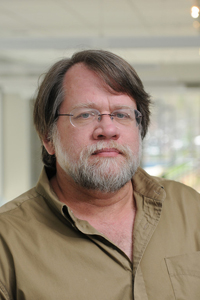 Titles and Organizations
Associate Professor
Department of Computer Science, College of Engineering and Computing
Contact Information
Phone: 703-993-1545
Campus: Fairfax
Building: Nguyen Engineering Building
Room 5320
Mail Stop: 4A5
Personal Websites
Biography
Dana Richards comes to Mason with years of experience as a programmer and innovator in the field of computer science. Prior to joining Vologenau's faculty, Richards worked as a programmer for Comress, Inc., and as an assistant professor of computer science at the University of Virginia. Most recently, he served as the program director of the Theory of Computing division of the National Science Foundation. He has written or edited three books and numerous publications on the topic. His research interest includes comparisons of protein sequences, Steimer tree algorithms, information dissemination in networks, parallel heuristics and methodology for computationally intractable problems, and parallel algorithms for median filters.
Research
2005 - 2007 : SGER:The Structure of Exponential Networks. Funded by National Science Foundation.
2005 - 2007 : NSF:SGER:Exponential Nerworks. Funded by National Science Foundation.
Research Interests
Parallel and Distributed Systems
Degrees
PhD, Computer Science, University of Illinois
MS, Computer Science, University of Virginia