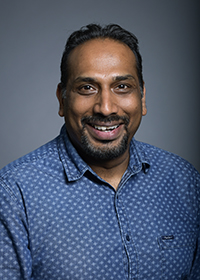 Titles and Organizations
Professor, Information Sciences and Technology, Volgenau
Contact Information
Phone: 703-993-5397
Campus: Fairfax
Building: Nguyen Engineering Building
Room 5400
Mail Stop: 1G8
Personal Websites
Biography
Aditya Johri studies the use of information and communication technologies (ICT) for learning and knowledge sharing, with a focus on cognition in informal environments including online communities. He also examines the role of ICT in supporting distributed work among globally dispersed workers and in furthering social development in emerging economies. Johri is especially interested in understanding the relationship between our social and material context. His primary research has expanded from the examination of ethnographic data collection and considerable time observing and talking to people in the course of their daily work/life. Johri's research has taken him into the classroom environment as well as into organizations where learning and collaboration are keys to success.
Research
2014 - 2018 : BIGDATA: IA: DKA: Collaborative Research: Learning Data Analytics: Providing Actionable Insights to Increase College Student Success. Funded by National Science Foundation.
2015 - 2016 : TILES: Trajectories of Informal Learning among Engineering Students. Funded by National Science Foundation.
2014 - 2015 : Collaborative Research: Deep Insights Anytime, Anywhere (DIA2). Funded by National Science Foundation.
Research Interests
Personalized Learning
Degrees
PhD, Learning Technologies, Stanford University
MS, Information, Design and Technology, Georgia Institute of Technology
MA, Mass Communication, The University of Georgia
BE, Mechanical, Delhi College of Engineering