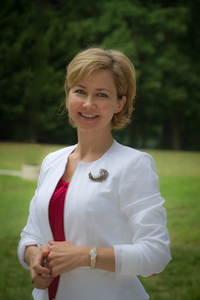 Titles and Organizations
Associate Professor, Information Sciences and Technology, Volgenau
Co-director of Personalized Learning in Applied Information Technology (PLAIT) Laboratory, Volgenau
Contact Information
Phone: 703-993-8299
Campus: Fairfax
Building: Nguyen Engineering Building
Room 5357
Mail Stop: 1G8
Personal Websites
Biography
Ioulia Rytikova is an associate professor and an associate chair for graduate studies in the Department of Information Sciences and Technology. She received her BS./MS in automated control systems engineering and information processing and her PhD in automated control systems from the National University of Science and Technology.
In more than 15 years of her career in higher education both in the US and Europe, Rytikova acquired significant work experience by providing leadership in the areas of innovative teaching and learning, instructional design, and distance education in a variety of STEM disciplines, at both the undergraduate and graduate levels.
Rytikova designed and developed multiple interdisciplinary programs, concentrations, and courses in the emerging areas of data sciences and big data analytics, computer and information technologies, health information technologies, and statistical analysis.
She founded a Personalized Learning in AIT lab (PLAIT) and organized various workshops, as well as published and presented on the topics of data sciences and big data analytics, cognitive and learning sciences, innovative teaching and learning, educational data mining, optimization, mathematical modeling, and decision-support and expert systems for large industrial complexes.
For her exceptional efforts in the classroom and her contributions to the educational process, Rytikova received recognition not only from her outstanding students, colleagues, other universities and industry partners, but also from the Volgenau School of Engineering when she received the school's Outstanding Teaching Award.
Research
Research Interests
Data Science and Big Data Analytics, Cognitive and Learning Sciences, Personalized Learning, Educational Data Mining, STEM Education, Health Information Technologies, Operations Research and Engineering
 
Grants
2018-2019: Department of Defense Cyber Scholarship Program
2017-2018: Department of Defense Cyber Scholarship Program
2016-2018: GMU OSCAR scholarly development grant "Integrating Research Experiences into Undergraduate Curriculum"
Degrees
PhD, Automated Control Systems, National University of Science and Technology
BS/MS, Automated Control Systems Engineering and Information Processing, National University of Science and Technology