Body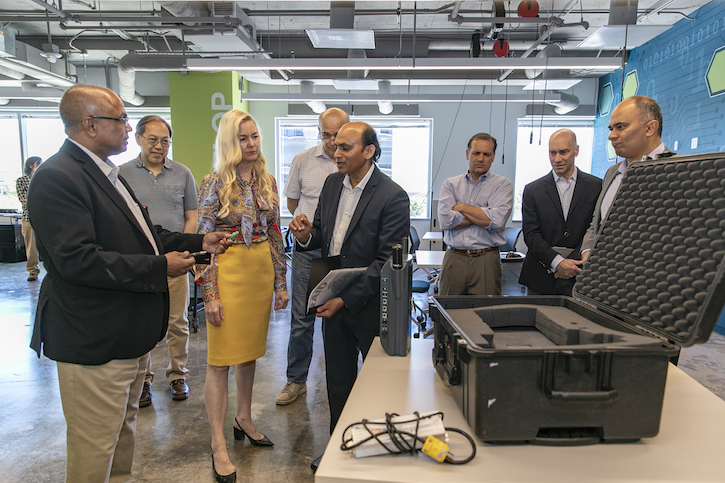 For Duminda Wijesekera, George Mason University's work in cybersecurity of 5G is critical to helping create the 5G-enabling applications that are already propelling businesses, communities and higher education.
"Wireless networking technology has become an important underpinning of the modern world, without which commerce and nearly every other facet of day-to-day life as we know it would be disrupted and even halted," said Wijesekera, a professor in Mason's Department of Computer Science and the acting chair of the Department of Cyber Security Engineering.  
That is why the Mason's partnership with COMSovereign Holding Corp. and Widelity Inc. is so significant.
The joint collaboration aims to research and build 5G-enabling applications and technologies to create new business, community, and higher education engagements and builds on Mason's work in 5G and the ecosystem of university, industry and government partners collaborating through the Northern Virginia Node of the Commonwealth Cyber Initiative (CCI).
The cybersecurity of 5G has been a focus area for CCI since its inception in 2019.
"CCI has been a catalyst for connecting industry and government cybersecurity challenges with university faculty with expertise, innovative technologies, and solutions," said Liza Wilson Durant, Mason's associate provost for strategic initiatives and community engagement and the director of the Northern Virginia Node of CCI. "University-industry partnerships such as this one accelerate delivery of new solutions to the innovation ecosystem."
Through the partnership, Mason will provide research and development and concept development of 5G applications, such as connected transport and smart infrastructure.
COMSovereign will support the research by providing stand-alone 5G wireless network hardware and related support services that include a complete, turnkey 5G network featuring a 3GPP standardized, 5G Core (5GCN), and 5G gNodeB base station.
Widelity will contribute business and engineering services in technology strategy, research and development, network design, lab testing and integration, and network deployment. The collaboration is expected to accelerate advances in cybersecurity of 5G and implementation of 5G in smart communities, which will support the growing innovation ecosystem in the region.
Dustin McIntire, the chief technology officer of COMSovereign, said his company was pleased to partner with Mason and Widelity on the cutting-edge 5G smart-campus program.
"Our mission remains focused on unlocking the true potential of 5G through the development and commercialization of advanced, American-made wireless infrastructure," McIntire said. "By leveraging the proven integration capabilities of Widelity with the research capabilities of the Mason team, we believe that not only will we be able to advance 5G technology, but we will greatly expand the potential use cases of this technology for customers across both government and commercial sectors."
Parag Singh, the managing director at Widelity, called the joint effort "an organized digital innovation partnership bringing technology, academia, and integration components to solve complex problems together."
"We believe that 5G/Cyber accelerator program with Mason and COMSovereign will create an organic entrepreneurial ecosystem and serve the regional economy via next-gen research expansion and growth in STEM talent," Singh said.