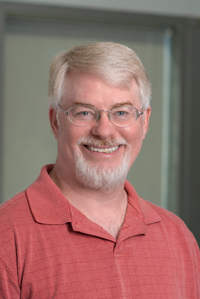 Titles and Organizations
Professor
Department of Computer Science, College of Engineering and Computing
Contact Information
Phone: 703-993-1654
Campus: Fairfax
Building: Nguyen Engineering Building
Room 4430
Mail Stop: 4A5
Personal Websites
Biography
His current research projects include the Testing of Critical System Characteristics (TOCSYC) and PILOT projects at University of Skövde (Sweden), model-based testing, analysis and testing of web applications, test automation, and usable security. He was on the technical board of advisors for Certess, Inc. He leads the MS in Software Engineering program at Mason, teaches Software Engineering courses at all levels and has developed new courses on several Software Engineering subjects, including web engineering, software testing, construction, design, usability, experimentation, and analysis. As part of his research, he has invented several new coverage criteria collaborating with a team of colleagues. These criteria include base choice coverage, prime path coverage, active clause coverage, coupling-based testing, bypass testing, and inheritance & polymorphism coverage. These included analysis and modeling techniques such as atomic section modeling and finite state machine modeling for web applications, the ping-pong algorithm for test suite reduction, and OO analysis techniques based on the yo-yo graph.
His textbook, Introduction to Software Testing (co-authored with Paul Ammann), was published by Cambridge University Press in January 2008 and is the leading worldwide textbook in software testing.
Research
2012 - 2014 : Usability Analysis of Security Protocols. Funded by Dartmouth College.
2006 - 2007 : Avaya Research Into Testing Service oriented Architectures. Funded by Avaya Corporation.
2006 - 2006 : Coupling-Based Analysis of Object-Oriented Software and Web Services. Funded by National Institute of Standards and Technology.
Research Interests
Software Engineering
Degrees
PhD, Information and Computer Science, Georgia Institute of Technology
BS, Mathematics and Data Processing, Morehead State University