Help Mason Go Faster, Farther
You can help propel George Mason University and our students to a bright new future. The Faster Farther campaign is a one-stop portal for directing support to the university as a whole, or directly to a College of Engineering and Computing program or fund. Your support is the momentum that drives Mason to achieve important goals faster, and for our impact to go farther. 
E. Bernard White Memorial Scholarship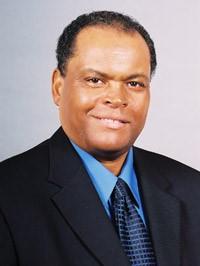 Help current and future students receive scholarships in the name of the E. Bernard White, PhD, Memorial Scholarship Fund. This fund was established in 2013 as a memorial for Dr. Bernard White, Associate Dean of Undergraduate Studies at George Mason University's College of Engineering and Computing. Dr. White's family, friends, faculty, and staff from the College of Engineering and Computing and George Mason University have donated over $15,000 to support underrepresented minority students attending Mason. We now have the opportunity to create a permanent memorial to Dr. White by raising an additional $10,000 to endow this scholarship.
This scholarship is a beautiful way to carry on his legacy. Make your donation.
P.S. If you work for a matching gift company your gift can have an even greater impact.